Nastiest, scariest, most sweat producing trails on the East Coast. What trail still gives you goosebumps when you see it?
Ripcord at Mount Snow is one. Anywhere you look at it, the bottom of the trail, the top, from the Canyon quad- it looks scary and steep. The only trail I've been on that caused my fear of heights to kick in, right at the edge where it starts to get steep.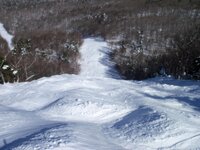 Outer Limits from the Bear base lodge at Killington makes it look serious. The Canyon area from the Canyon chair or K-1 gondola at Killington gives me shivers. This is another good shot of the Canyon.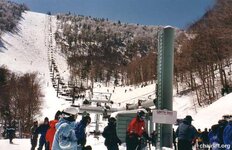 Goat at Stowe with thin cover anyone?