Joined

Jan 13, 2013
Messages

3,739
Points

113
Time skied: 9:30-4:15
Weather: Literally every type of precipitation
Conditions: ??? Deep sleet?
I'll try to make this detailed as I'm sure a lot are wondering how Vermont fared in this storm. At Mount Snow at least...serious gain! Very heavy sleet/snow mixture with a nearly unnoticeable crust on top. Super dense snow. Really opened the place up. I skied lots of lines not ready till mid-winter.
Started the day with 3 inches of sleet at my house in CT near the ass-end of I84 west. Roads were good. What's typically a 3 hour drive took an extra 15 minutes.
As I passed the mountain things looked great. The Bluebird was spinning, the snow on the roads seemed light and fluffy. Turns out they had only gotten 5 inches with a crust, and only the fixed grip lifts were spinning. Oh well, I'll make the most of it. I scooted over to the North Face.
After the first hour, I was absolutely miserable. Freezing rain. I was soaking wet, I couldn't see, I could barely think. I took a break in the summit lodge for things to clear (which they did) and went out again at 11:15. Stayed on the North Face till 1, then did a Sunbrook run, Carinthia runs, and then back to Ego Alley to get back to the North Face. I encountered: sleet, snow, rain, and ice pellets so big and painful I had to stretch my facemask over all my exposed skin...just riding up the lift. Couldn't imagine what it would've been like skiing while that ice deluge was happening (only lasted about 10 minutes).
The trees are ready. First tracks in the Olympic trees. A lot of more technical off-the-map stuff is skiing good as well. Streams are still not frozen though. Naturals in great shape. Snowmaking trails were actually the most sketchy- anything ungroomed with snowmaking was glacial.
Very few people on the hill. First tracks everywhere. My last runs through the OMT trees were untracked. Cliff drop from the trail is alright too
.
Very good day that kept getting better. I was really glad to get another...frozen precip...day at Mount Snow this year. 4 for 5 this year at this place alone!!!
Glazed trees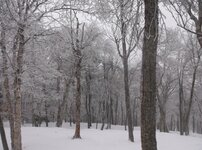 Also worth mentioning- lot's of branches fell with the ice. Only saw one tree that had fallen, but lot's of branches that aren't exactly ski-over-able.