Time Skied: 10-4
Conditions: Fast packed powder, powder in trees
Weather:
10-12: light snow, windy, cold ; 12-4: Wind died down then picked up again, cloudy
Took my first run over to the Northstar at 10am. Only a 3 minute wait! At Okemo? On the Northstar? At 10! Gotta love post-touron ski season :grin:. Headed to Jackson Gore. My first run was Supernova- dust on crust. Sucked. Thought higher elevation would help, so I tried Black Hole. Boy, did it help! A great run! Lapped it 3 times. Was stupid and did Big Bang. Was OK till it merged with Eclipse, then I got ice moguls. At noon I went to Glades/South Face and did my off-map stuff (which still had plenty of fresh powder!) and some on-map stuff. That held me off til closing bell. Probably my second best day this year!
Crowds were light. Coverage is great. Get it while you can.
Construction has started on South Face Village! See the thread in the "main" forum!
Outrage (or is it Double Diamond?)
******* Glade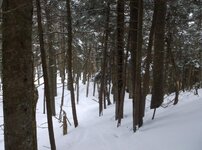 Last edited: