Joined

Dec 4, 2010
Messages

2,827
Points

48
Resort or Ski Area

Snow Ridge
Date

Jan 20, 2021
Snow Conditions

Powder
It's been quite busy at work lately, but an unexpected dry spell hit yesterday afternoon. Luckily it coincided with a snowy spell in Turin NY. It's been a couple years since I've skied Snow Ridge. Lake effect snow just ain't what it used to be. He'll, even Erie produced lake snow from this event. It should be frozen over by this time of year, it is much shallower than Ontario. Global warming? I'm starting to buy it. The last few seasons we've opted for McCauley Mt over Snow Ridge when the lake machine did crank up. McCauley generally gets less snow than Snow Ridge, but the terrain blows SR away. Both are cool, small, retro hills.
Left Binghamton around 7:30, pulled into the lot about a half hour prior to opening. Nice that opening isn't till 10, still asleep while normally on the road to hit other places by opening. Was very interested in checking out a pair of skis I bought off a buddy of mine. Moment Bibby, 118 underfoot, 190 in length, mounted with Marker Dukes. I was fourth chair up. Made a blissful run down a virgin North Slope for starters. Skis performed beautifully, probably even better if the weren't supporting probably 270 these days, damn you Covid. No excuse, really, but it is what it is. I've been between 165 and 315 in my adult life, healthy, huh. STP's Half the man I used to be is my theme song when I'm being good. Anyway, in spite of being fat, old, and out of shape. I had a terrific time.
After a couple runs, I noticed patrol had dropped the rope, well actually they changed the sign from closed to open on Kuersteiner's. I made second tracks there. Apparently a boarder made first, as the track ended and became footprints. Love Kuersteiner's, but it is a slog back to the chair. Not so much a slog to the bar, so I waited till I was ready to head there before hitting it again. Skied till about one, it was plenty. Not sure how many runs, but enough. Powder is fun, but it is tiring. More lake snow is in the forecast. Might possibly head back up this weekend, or maybe McCauley if the get enough lake love.
Typical view of the roof of the lift shack.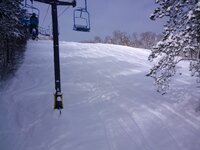 Sunny early, then alternating between sun and snow, typical lake effect, whichever way the wind blows.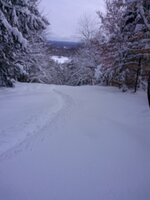 First run down Kuersteiner's, everything else was pretty much tracked out at this point.
South Slope
Put my buddy's share of the gas money to good use, I remember when I had a chin.
P.S. Kudos to Google Maps, alerted me to 4 radar traps on the drive home. New feature, attempting to compete with Waze, I guess. My radar detector shit the bed recently, so the head ups where much appreciated.
Last edited: