Joined

May 24, 2019
Messages

767
Points

43
Resort or Ski Area

Arapahoe Basin
Date

Mar 1, 2021
Snow Conditions

Packed Powder
So, we have not skied much at all this season and we were excited about this trip. We had purchased A Basin passes prior to moving from Colorado to Boston, We also had purchased the GEMS Card back then as well. As a result our focus was on A Basin and Loveland (GEMS BOGO). We had planned on flying out on Sunday and returning on Saturday but as things unfolded our dog sitter fell through so we had a change of plans and decided to drive out with our dogs. Lucky for us they travel well. We left on Friday evening after work and arrived in Dillon/Keystone at 5 PM on Sunday. The temps were super cold - around 8 degrees and over night it got down to -6 without windchill. Overall there were no powder days but conditions were great and sun was awesome.
Day 1 arrive at at A Basin around 10 to let things warm up. Turns out the whole week was relatively warm with temps around 35 each day except Thursday. We also had bluebird skies each day except for Thursday. Our first day was kind of chill since we had only skied Nashoba and we wanted to warm up a bit - at least that was the plan. After a couple runs of Black Mountain Express we decided to find runs that were a little more interesting like Falcon, North Fork, Powder Keg and North Chute to name a few. These are great warm up runs for bumps. We also skied some fast runes from the top of Lenawee to the base a couple times before heading in for lunch. Lunch was interesting - the hostess was a mask police. She even wanted us to wear mask while ordering food even though we had something to drink at our table. But then she would come over and clear our table without the requirement. It was a little weird. She also would not let us sit at the bar because it was not disinfected even though we said we would wait. Five minutes later, she cleaned it and sat someone else there. After lunch we opted to ski Montezuma bowl and skied some initial runs down the middle starting with Larkspur to Miners Glade Then Columbine to Torreys. The tree runs were all bumped up which makes it more fun. Final run over there was Long Chute before we head back to lap Pallavicini Lift to finish out the day.
East Wall - not open - looks cool through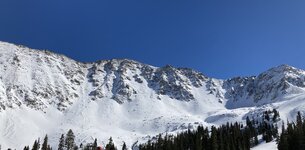 Lenawee
Top Terminal of Palavicini Lift and West Wall, South Chute, Nose etc.
North Fork - a blue bump run with decent bumps - wife was beat after a non stop from the top of Lenawee
South Chute
Falcon
Looking down Falcon
Looking Down Montezuma Bowl