Joined

Feb 25, 2015
Messages

1,741
Points

38
Location
Our flight to Bozeman was pretty good - originally we had a connection in SLC from BOS, but got changed to MIN, which makes it about an even leg from each airport. We wound up arriving almost 2 hours earlier than planned which was nice. However, when we got our rental RAV4 and got on the highway, the car had an unsafe and awful wobble... so back to the airport for a different one. So, that ate up much of our "extra" time when we had arrived, but whatever.
Saw a huge herd of elk crossing the road on the way into Big Sky, maybe 200 or 300 lining both sides of the road... that was pretty neat. No pictures though since it was dark out.
Day 1
:
Slept in since we didn't get to the place we were staying at until around 1 am. Got to the mountain around noon just when it was turning from a beautiful bluebird day to somewhat cloudy. The light on the mountain was pretty flat, so it made getting used to things a bit challenging. Still, we had a fun day. I got my wife back up on the Swift Current lift which freaked her out last year and got her onto a nice wide blue with some good pitch (Lobo - probably my favorite groomed trail). Took some nice photos of my wife riding with Lone Peak in the background (
the 1st is cropped/zoomed
).
Once she was accustomed to the Swift Current lift I headed to the Powder Seeker to check out the bowl area since I didn't get up there at all during last year's visit. It hadn't snowed in a couple of days, but the snow was still good and if you traversed over towards the more difficult chutes over near the rocks it was great snow.
A view from the top of Swift Current lift
:
My wife on Lobo with Lone Peak in the background
:
The ride up Powder Seeker 6
-
Heated w/ a bubble, not bad!
: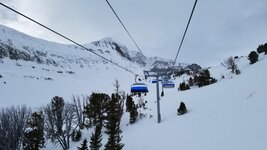 Last edited: