Joined

Sep 22, 2008
Messages

3,052
Points

0
There was skiing in Pennsylvania in April, at least at Blue- a feather in the cap of its excellent snowmaking team. The conditions were surprisingly good. All trails were open except Challenge, who's dirt patches didn't prevent poachers from sneaking some runs. Being that it was Blue's last day, I won't linger on conditions other than to say I got more than my money's worth. A full day ticket was priced at only $28- a nice way to show their appreciation for what was a solid season.
You can see how deep the base still is on The Chute: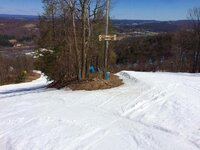 Main Street held up very well, but there were no bumps: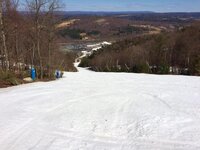 Because the bumps could be found over on Razor's Edge, specifically about 1000' of vertical worth of bumps on skier's right:
Sunshine was in abundance all afternoon, causing me to stay towards the shady side of the trails. When the snow began to get a bit heavy, Switchback delivered the best conditions on skier's left due to the large pine trees that cast shade all afternoon.
For most of the afternoon cheers could be heard from the pond skimming contest over by Summit Lodge: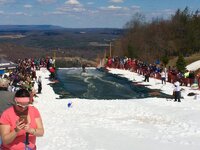 ...while folks recharged their drinks until 5 o'clock, closing time:
"Closing time-
One last call for alcohol so finish your whiskey or beer.
Closing time-
You don't have to go home but you can't stay here"
Last edited: