Joined

Jan 31, 2011
Messages

432
Points

16
Location
Catamount Ski Area Hillsdale, NY/Egremont, MA
Date: January 26, 2013
Conditions: Man-made packed powder
Woke up late Saturday, so was going to bag the whole day and ski Sunday, but the non-skier said "Go, have fun!" I didn't need much more provocation. I was a little worried that Catamount would be a zoo--I usually avoid it on weekends. I pulled into the lot around 9:45 and parked in the 3rd row from the lodge.
It was about 11 degrees F, so I bundled up. My shadow looked like the abominable snowman.
Friday night, the Catamount website reported that they would have Catapult open with the snowmaking whales, but I was sad to learn that plan was scrapped by Patrol--no reason given. It looked like it would have been fun. The trail was heavily blocked off at the top so no one poached it the whole time I was there
I bought a 4 hour ticket and started my first run at about 10am. The snow quality was very nice and skiing fast. My favorite run, Alley Cat was roped off for racing, but there were plenty of other trails to keep me occupied. Upper Glade had moguls on skier's right and huge rollers on skier's left, the rollers were fun and I was able to catch air. The NY side of the mountain started to get scraped off by about 12:30pm, but there was plenty of good snow along the edges. The Massachusetts side was fairly empty and the trails were skiing nicely up until I left at 2.
Even though the mountain was pretty busy it never felt crowded and I never had to wait more than a few minutes to load any of the lifts.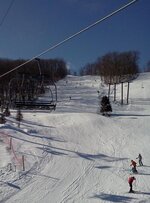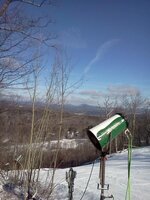 Thank you snow makers and snow guns !!!