3/8/13 **Please ignore angry icon in title--an errant click and can't change**
Crotched Mtn
Powder/Packed Powder
Got the early AM call that school was cancelled and since we had no chance of getting out this weekend, off my son and I went to check out Crotched. It was his first time skiing there but I grew up skiing on the old side in Jr. High. I've been back to the new side a couple of times in the past several years but this was the first on their new hi-speed quad.
What a difference!
It really was a treat to be at the top in what seemed like seconds--it almost catches you off guard when the offload area comes up.
With about 8" of fresh, it was pure powdery delight. We first headed down around Moonwalk (a little gusty up top) and cut across to Meteor--we just feasted on powdery turn after turn. Next was Pluto's Plunge right down the lift line which was a nice long stretch of goodness (my trail pick of the day)--quietly gliding on top of everything was a real treat. Everything was bumping up nicely and I am building up a better rhythm to my beginner/intermediate mogul abilities. I desperately want to conquer moguls and am seriously considering some mogul lessons before the season is out. My son enjoyed the jumps on Upper and Lower Park--looks like they were getting the big air bag ready for this weekend.
I'm not much of a glade skiier--mainly because I was one of the last holdouts on wearing a helmet and didn't want to risk it. Now with a bucket, I'm venturing in a bit more. Kuiper Belt was good--mainly a narrow trail in the woods but seemed like a good way to ease into tree skiing. Looks like the Final Frontier Glade has thinner coverage but we didn't hit that. Although, we did ride the West Lift a bit and hit the less tracked Velocity and Comet Drop...the bottom of these flattens out a bit and you can find yourself skating a bit if you don't anticipate it.
We decided to optimize our short day and stay on the hi-speed quad and rack up some runs. (Alpine Reply app still only captured about a third of my runs even after updates :???: ). Despite the "warehousy" feel to the lodge, they've warmed it up since the last time I've seen it with some nice features (BIG fireplace, lounge area, and even some nice paint). When it comes down to it though, the spaciousness really does work--from the cafeteria to the sitting area, to the massive bathrooms! I really do appreciate the functionality when many other resorts seem very cramped.
Hey, kudos to the top-side summit liftie for stopping the lift quickly when my son's glove strap got caught on the bar. For the teenagers behind us, it stopped just short of the exit ramp and they actually had the nerve to raz the liftie for their "inconvenience"--too bad I had to remind them that my son was hanging off the chair. Aside from that, it was a great return to Crotched. Karen at Customer Service was super nice lady and I even chatted with GM Pat Terry. Great job guys--we'll be back soon!
From the Rocket Hi-Speed Quad looking down on Pluto Plunge
Top of Meteor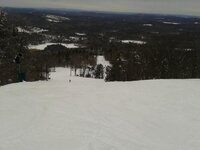 Final Frontier Glade from West Lift
Last edited: