Joined

Jun 3, 2008
Messages

24,840
Points

0
Website
Garmin VIRB Elite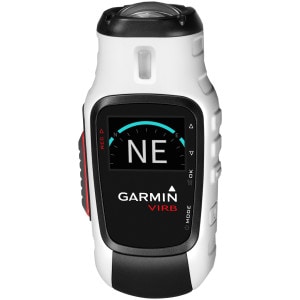 If you've been torn between the standard Garmin VIRB and the VIRB Elite, know that you're not alone. After all, we're basically talking about the smartest action-camera on the market. However, if you need to add Wi-Fi connectivity and high-sensitivity GPS to the mix of 1080p HD video and16 megapixel still photography, the Elite is for you.
You heard all of that correctly, but like all things Garmin, there's way more between the lines. Sure, ranking at the top of the list, the VIRB captures jaw-dropping HD video quality. However, it's even more impressive that it shoots 1080p HD quality while also allowing resolution speed adjustments for dramatic slow-motion captures up to 120fps. In fact, the VIRB features the following HD video modes: 1080p@30fps, 960p@48fps, 720p@30/60fps, and 848x480@120fps. Impressed?
Well, there's more. All of this is recorded through Garmin's new WideVu lens, which lends itself perfectly to expansive shots in either video or still mode. And once in still mode, you're able to shoot up to 16 megapixel shots with Garmin's CMOS image processor. Or, if youre aiming to conserve room on the card, you're also able to shoot at 12 or 8 megapixels in either single-shot, photo burst, or time lapse intervals.
And once you're through with your shots or video, Garmin enabled you to immediately watch it through the VIRB's 1.4-inch Chroma display. Even better, this display also doubles as your interface to the camera's menu. Further increasing the user-experience and functionality, Garmin also included an instant-record slider on the side of the camera. This way, you'll always know when the camera is rolling, and that you got the shot.
It's pretty evident that Garmin put the user first with the VIRB, but high quality recording isn't exactly an exclusive trait. However, the VIRB's ANT+ wireless connectivity certainly is. Essentially, this means that you're able to sync your Garmin Edge CPU with the camera. By doing so, you're able to use your cycling computer as a remote control " Garmin will have a dedicated remote out later this year. And when it's time to get editing, the sync between your Edge and the VIRB means that the included VIRB EDIT software is able to automatically match your ride metrics to your video. So, sharing your metrics like your speed, cadence, and heart rate is easier than ever.
Differentiating the Elite from the standard VIRB is the addition of high-sensitivity GPS. And in case you wondering, this does include accelerometer and altimeter functionality. Additionally, the Elite features Wi-Fi connectivity, making it compatible with Garmin's smartphone app.
As for the body of the camera, the VIRB benefits from Garmin's IPX7 construction. This body is incredibly durable, aerodynamic, and most importantly, waterproof. At the battery, the VIRB features a rechargeable 2000mAh lithium-ion power source that's capable of recording up to three hours of 1080p video on a single charge.
The Garmin VIRB Elite ships with a rechargeable lithium-ion battery, cradle, short link, right angle link, mount-adapter, flat surface mount, curved surface mount, removable flange base, threaded collar, three knobs, a USB cable, and a user guide.
Price: $279.99 (30% Off!)
Regularly: $399.99
Buy Now