Joined

Oct 31, 2005
Messages

1,270
Points

38
Location
Resort or Ski Area

Other / Not Listed
Date

Feb 25, 2021
Snow Conditions

Cord
Finally ended up on a good list. The Hermitage Club opened the place up to their employees and a few friends/family of each. Nice to know someone....
The slopes are open Friday, Saturday, and Sunday. So it was just the" low life's" out there today. It was great! To see the employees, bumping into one another, introducing people, and having a great time in a different environment - sort of. No worries of pissing off any millionaires. There was a lot of job switching going on to run the lifts and other things. I met a lot of great people there. They all seem to love their jobs. The Hermitage seems to recognize the value of a happy experienced staff, and appear to pay and treat them well. I'm sure the snow this winter helps, plenty of hours for everybody. They certainly feel positive about the resorts future.
The skiing was absolutely fantastic. The whole hill was groomed to perfection. Witches was closed. So it was a day to just let em' loose on the main mountain. The trails were empty because basically there was about 100-150 people max skiing. I haven't skied like that in a while, and I was OK with it. The glades had plenty of snow but were a thick layer of wind buffed, thick, breakable crusty, etc… just inconsistent. We shied away for the most part. Hit some stashes along the sides where it was a little safer. Free, no lift line, free lunch, good times with friends. Who could possibly complain? I'm told we did like 25,000 vertical. We did many runs.
I do see the attraction of membership, especially for a young family, especially this winter………no lines, empty slopes, great place to teach the kids. I would think the skiing would get pretty stale eventually, but if you throw in the Epic then you can branch out early and late season, maybe come up Thursday or stay Monday once in a while. I mean I can't afford that but if I could it would be a good retirement type situation as I am slowing down a little.
They did do some things excessively. The lodge and mid-mountain lodge could have been scaled back a little. I'm sure there are other things. I'm totally on board with the bubble. Why not. They seem totally focused on skiing now and was told they have sold off all the other bullshit that set them back. I am hoping for nothing but good things for Haystack. It is just a beautiful area, even in the summer.
Real sweet fireplace in the Lodge.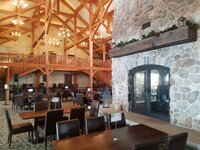 Upper Base area. Plenty of cabanas to go around.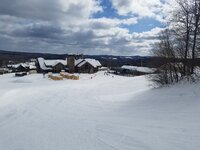 Summit View:
The "band" back together. Good times!
How to get the kayak up here?
Some nice easier glades all around the place. Stayed away for the most part today.
We were too lazy to hike up but we skied across to get a little of that heavy shit on the upper mountain. Was fun with no trees in your way. Did that a few times. There were stashes like this all along the trail edges you could jump in for a few turns.