Joined

Nov 7, 2012
Messages

8,792
Points

36
Location
Conditions: All natural, packed powder, powder 12-16 inches on some trails and powder bumps/powder chop
Trip report:
Well this will be a tale of misfortunes in many respects! While the skiing was great, everything else seemed to not work out so well. My wife reconnected with a high school classmate from 30 years ago and her son, who had booked a four day trip to Keystone so originally, we planned to ski with them on Friday and Sunday. However, with the storm that was arriving Friday night and possibly earlier, we reconsidered and bailed on Friday since around the time we would be heading home the high elevation passes could be tough and I-70 with traffic can be worse. Since the storm was going to last into the day on Saturday, that day was not considered from the get go. That left it all up to skiing Sunday, we set the alarm for 6 am with a plan to leave by 7, however, my wife thought she plugged her phone in and did not which resulted in a dead phone. We woke up around 8 and were out the door by 9. Luckily we had good traffic and we arrived around 11 ish. However, now parking was a PITA. We went from lot to lot reading "Lot Full" signs. We ended up parking at a remote lot and took the shuttle carrying our boot bags since changing at the car was not happening with -12 windchill. My son's phone died before we arrived and I forgot my phone in the car (reason for lack of pics).
We finally got suited up and were taking the River Run Gondola – first run – 12:15. While it was cold out, I was sweating from the sun hitting the Gondola. I also was feeling weak from not eating enough or a sugar crash – something. Skiing down Frenchman, every turn was a fight, wanting to get back to the base to grab our lunch. The conditions were awesome but I was not really enjoying it. In any case, once I ate, I was fine and ready to go. My son did not want to eat out side because it was too cold for him. So we headed out for another run on Spring Dipper – also on great condition and the tree line was very playful with nice powder depth which is where our son and I spend most of our time.
Now, our son says he is hungry so we heading to the Dercum Summit Lodge and walk into the cafeteria and – wow $17.50 for chicken fingers and fries. My wife had a Bloody Mary and I had an IPA which cost less. So now we are all squared and ready to have a session.
Our next run was on Wild Irishman, and what a run it was. This run was left untouched and there were bumps with powder and each turn just felt like it exploded. This trail had nice drops which were bumped out and made it very fun. Our son and I were popping off bumps and having a blast. My wife, well, she took it easy since her knee has been bugging her for a while since she took a digger at Sugarloaf last season on Gondola Line. She did great though. We then took another run over to Peru Express on PayMaster over to Haywood. This run was groomed but very smooth and riding the edges were effortless while skiing the edge of the trails following its every turn. 27 inches of snow over two days did wonders. Peru Express was a cold ride. We have been lapping the Gondola for the most part and we were skiing hard which was heating us up so this ride just felt cold with a windchill of around 0. We ended up on PayMaster once again to get over to the Gondola for a couple more runs. When we got back to the Village side, we noticed that the Summit Express was ski on so we hopped on. This chair moves quickly but it is also a long chair and parallels the Gondola and about mid-way we thought that the Gondola may have been a better idea. In any case, we took a run down Spring Dipper to Santa Fe and as we headed down Santa Fe we thought we would be bored. The beginning is a quick dip and run out to the first knoll. At that point we got excited about the powder and powder bumps. This trail was not well traveled and we had fun with it. It too had step down features where shorter (relative to Keystone, about as long as Gary's at Cannon) sections with bumps that transitioned to a short flat then repeat. The powder bumps seemed to beat the legs up enough such that our last run was a work out. We decided to ski Flying Dutchman which we had been watching all afternoon at this point. My wife was apprehensive but by now heard us talk about it so she said what the heck. This ended up being another great run that was bumped out most of the way. It had great consistent pitch and clearly was skied more than most runs. By the time we reached Beger, our legs were toast and the Pats/Broncos game was underway. I did try to talk my son into one more run but he wanted to head in for a bit.
The game was a snooze fest, but we did finally meet up with my wife's classmate. While we planned to ski with them it never panned out. They are Dolphin fans being from Florida and were cheering for the Pats to win so they could surpass the Broncos for a wildcard spot. At the same time they would like to see the Dolphins win out the rest of the season and the Pats lose out the final three with a larger point spread in the final game to take AFC East, however, they were real about that expectation.
Here is the real kicker, we missed the final bus to the lot we parked in so we had to call for a shuttle, then we get to the car and kept our gear on minus boots because it was so cold (reason why things happen). We drive off and get onto I-70 which looked clear BTW, and low and behold – radiator hose blows with steam blowing everywhere and I could not see shit. The stretch heading towards the Eisenhower Tunnel has no real emergency lane and we were stopped in an actual driving lane in skier traffic - great. Called the State Police and it took them about 45 minutes to arrive along with a tow truck and a State Plow. Thankfully we had AAA Plus and we got towed all the way to Colorado Springs, but that but a damper on the day. We got home around 9:30. Luckily our son at Fort Carson has Monday off and is mechanically inclined.
Overall a great skiing day even with the issues! Hey and the Pat s beat the Broncos!
Wild Irishman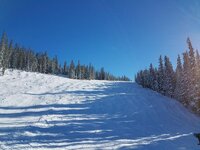 On Paymaster
Son arcing a turn to show how light and fluffy the trails were Every turn tossed the dry snow in the air.
I liked this shot of the trail in the background from the village - their night skiing is not brightly lit. Then again it is 290 acres of night skiing
Last edited: