Joined

Feb 28, 2012
Messages

825
Points

0
Location
Carriage Road tour this morning. I managed to get up the Class VI road despite it being unplowed (and me having put on my boots at the lower stop - driving stick in boots was the sketchiest part of the day).
Skin track is fine form. A few water bars with picky crossings on the lower third of the trail, but all's well after Hurricane.
I made it up not quite to Glencliff where the trail started to deteriorate quickly, so I decided it was time to click in and enjoy the downhill. Past Snapper was posthole city, which made for a chossy ride down. But manageable.
From Snapper to the runout was just beautiful. Chalky, squeaky snow and fast skiing today.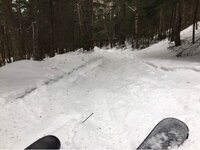 Good stuff below Snapper.
Bumpy road above Snapper.
The junk started falling just as I made it back on the road. Good morning to be out.
Sent from my iPhone using AlpineZone