Joined

Dec 30, 2003
Messages

3,951
Points

83
Location
Resort or Ski Area

Stratton Mountain
Date

Dec 17, 2022
Snow Conditions

Powder
Intended on leaving home at 6 and rolling in at 8:15, but realized when I stopped at Dunk's after 10 minutes of driving that I forgot my wallet at home (which still had my Ikon Pass in it because I hadn't used it yet) so had to turn around for that. Roads were fine once I was in Vermont but got stuck behind people who apparently didn't think so, so all told I finally rolled up to the base area at 8:45, already late for first tracks. My frustrations were further compounded when I followed a line of traffic into Lot 1, got stuck for 5 minutes because a Lexus with NY plates and probably bald tires got stuck on a tiny hill, then ended up in a dead end with 4 other cars who all had to turn around because the lot was full. So finally after 10 minutes I was headed further down the access road, past Lot 2 which was also already full (wish they would've had a sign saying Lot 1 was full), and then into a LONG line of cars waiting to get into Sun Bowl which they were still plowing out. It was 9:20 by the time I finally parked and the line for the shuttle was literally wrapped past the lodge. I knew that Solstice was opening at 10, so I just said f*ck it and waited at the lodge for that to open. Kudos to Stratton for seeing the situation and hustling to open the lift 30 minutes early.
After a ride up the painfully slow quad, then waiting ~5 minutes in the singles line for Ursa and riding that up, I was finally ready to take my first run at 10:00, an hour and a half later than I had hoped. I thought about warming up on a cruiser, but the magnetic draw of Diamond in the Rough was too strong to resist and I headed right for the woods. These were pretty good in the morning, obviously some low tide but can't complain about that in December in southern VT. I don't think I skied a glade until mid March last year so things are looking up already.
Ursa line was getting longer so I headed to the Snow Bowl side to check out that scene. Started off on Upper Standard which was fully ungroomed and loaded with soft crud. Ducked into the lower part of Shredwood Forest which was pretty bony down low and had a lot of people in it. Not great, and this would later be roped off. Guess this one needs a little more snow than the stuff off Ursa.
Snow Bowl line was a lot shorter at that point. Went up and hit West Pilot, which was in good shape and a ton of fun until the murderous runout. Coming down the lower part of Wanderer in a single track path through the powder smacking into increasing larger water bars was an excursion in itself, especially near the wooden bridge where there were 2 legitimate rivers to cross. As good as West Pilot was, definitely a one and done there.
Gondy line wasn't bad at 11:00, which I took up to Dancing Bear glade. This one is a little more wide open and still had some fresh lines. A couple rocky areas as well but those are easy to avoid. This dumped out onto World Cup which might've been my favorite run today. Reminded me a little of Lower Ovation at Killington with the puckerbrush and soft snow. Really fun soft turns right down to the bottom, and the Stratton clientele thought it looked ugly as hell so stayed nice all day.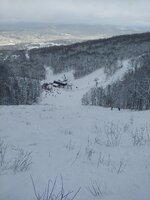 Did a groomed Slalom (not-a) Glade down to Dino's Drop, a narrow straight shot next to World Cup. Had the same soft snow as World Cup but a lot less twigs to deal with.
Snow Bowl line suddenly got long around then, so took upper Shredwood which was much better than the lower part. Popped out onto Standard for more wide open crud skiing. Reminded me of skiing out west a bit with a trail full of soft snow.
Hit a freshly opened Upper Middlebrook with about a thousand other people which was already tracked out but super soft. The top of Lower Middlebrook was totally untouched so dove into some powder before enduring 10 minutes of runout and poling back to the Solstice Quad. Soooo flat on that side of the hill.
Peeped some people skiing an almost totally untracked Sunriser from the base, so took the Quad/Ursa up for an Upper Middlebrook repeat, then crossed the eerily quiet 6-pack unload onto Sunriser. Untracked snow everywhere, but with it being dense and Sunriser being so flat it was almost impossible to really turn except in a couple pitchy areas. Had to straightline most of it to stay moving.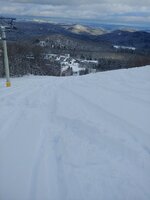 Slogging through the untouched dense powder killed my legs so was down to a couple more runs. Hit Moondance which wasn't nearly as good as Diamond in the Rough. Snow was ok, but just didn't seem to flow well. Maybe I went off course because I remember liking this a couple years ago. Finished up with Upper Middlebrook down to Sunriser, but cut off down a fully untracked Rick's Catch-22. A black diamond that is too flat to turn in powder is such a Stratton moment, but 90% of the trail was exactly that. Colder snow probably would've been okay, but one turn would stop you dead even on areas with pitch. But at the same time, it was nice to find an untracked trail at 2:30 in the afternoon.
Not sure Stratton will ever not be my least favorite resort in Vermont, but I'm trying my best to appreciate it a bit more. Do I wish I went to Killington instead? Yeah... but still a really fun day. Get out there before the grinch storm rains on everyone's parade next Friday. I'm hoping to get back out Tuesday.
Last edited: