Joined

Sep 5, 2014
Messages

3,389
Points

83
Location
Resort or Ski Area

Other / Not Listed
Date

Apr 25, 2021
Snow Conditions

Powder
Packed Powder
Slush or Spring Snow
Even out west, spring ski trips and timing play hand in hand. I have been very fortunate my two previous April trips to Bachelor were well timed. This third trip proved to be just as well. Our first day was Sunday, April 25th and arrived to midwinter temps, a couple of inches of fresh snow ontop of spring frozen crud base. It snowshowered/squalled through the day with the summit in the clouds resulting in no summit access. It wound up being the last day of full lift ops and normal season hours, so we stayed mostly on the east side off Cloudchaser. The groomed runs were soft, mostly packed powder. Off grooms, Pine Martin and Skyliner was fairly powdery and just enough to make it fun, though you knew what the base was beneath. The further East you went, the lower the new snow amounts and the more it felt like a heavy dust on crust. Around 130ish, the sun broke out for a good 45 minutes and shot the temps up at least 10 degrees (probably pushed 40 on the east side). This quickly softened all the off trail on the east and made for some fun runs. It also softened up the East catchline, making that a bit of a slog with the amount of uphill section on that back to cloudchaser. All in all a solid cool spring skiing day.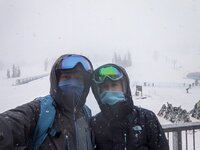 Monday 4/26
While not a super big dump, Monday brought on a full on Powder day. Resort report 4 inches overnight but they measure at the bottom of West Village. The NW side (where all the good sustained steepness exists outside of the pinnacles off the Summit) tends o get more and did it deliever. I would say more like 8" over there that coupled with Sunday's snow, made the upper half of the NW side ski 100% midwinter. All of the trails skied great between Outback and NW Express and traversing out to the far west bowls and trees yielded fresh lines all morning. Lapped that all morning. Summit opened midday with some clearing though a persistent NW cloud/fog bank held tight limiting terrain patrol was allowing access to due to visibility. Skied the Pinnacles line off the top, nice snow on top but you could feel the frozen crud beneath. East Cow Flats skied decent, but with Cloudchaser done for the season, could go too low before the point of no lift return. This day also marked the start of their spring hours, 830a-130p.
Tuesday 4/27
The sun was finally out on full display from bell to bell. Opening bell saw a temp in the teens and caused the lower half of the frontside to firm up overnight. The NW side didn't see the same firm up, and plenty of untracked powder lines awaited through mid morning. By then it was time to head up the Summit and all 360 degrees were in play. The backside had already softened in the bright April sun, with the fresh snow it skied like cream cheese frosting. The backside of Bachelor is so much fun, terrain rolls and twists, wide open lines pinch into trees then open up again, with skier's right having big drift ridges you can launch off of time and again on your way down. You do hit the west catch line, though this catch has much better pitch than the east and is a much easier run down to the NW express. Also made the hike to the top to drop into the NW side. This yields the max vertical runs at 3300' vertical or so. Fun until the last 500' vert of so, as by then it had warmed enough the snow was becoming gluey, even in the shaded trees. Coupled this day with some Mountain Biking out of town in Bend. Fantastic trail network and by this point in the spring, totally dry and snowless down at those elevations. If you are looking for a late season ski trip to couple with Mountain Biking, you cannot go wrong with Bachelor and Bend!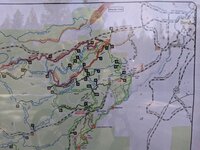 I should add we rented our bikes through Pine MTN Sports in Bend. We got hardtail Trek Roscoe's with dropposts for $35/24 hours or $25/4 hours. Great deal IMHO as bikes were in great shape and fairly (a year old at most). If you want more aggressive, they offer a couple of levels of full suspension frame bikes for a bit more.