Joined

Jan 13, 2013
Messages

3,743
Points

113
Conditions: Icy crap early am transitioning to late PM slush, with 5 awesome hours in between.
Time Skied: 9:15-3:45
Weather: Freezing fog AM, sunnny and warm PM
Today was certainly a mixed bag! I had a voucher to use, and with temperatures near 50 and sunshine in the forecast, I thought "why not?" before my busy "warm weather" work begins. When I got there it was depressing. Clouds and fog from the top of the Canyon Express on up. Conditions were miserable. Icy, unedgable mess that made me come close to switching over to my rock skis after the first run. Moved to the Carinthia side and hunkered down over there till 11 when things started to soften up. After lunch I lapped everything, mostly hitting Freefall and Cascade to Canyon or Snowdance. They skied wonderfully. Freefall was soft enough to be fun but firm enough for there to be speed if you wanted it. Cascade softened up but never slushed up. Fun moguls on the upper 1/4 of the trail. Canyon and Snowdance were slushy but navigable. Ended my day (and my season) on Canyon, the same trail where I "broke in" my new skis more than 3 months ago.
As for coverage and depths... I was pleasantly surprised. Long John, Cascade/Canyon, and Freefall are all BURIED with 2+ feet of snow down their lengths. The rest of the mountain held up very well. No need to switch over to rock skis. Bases and edges are in the same shape they were in when I started the day. The only "technical" skiing required was Lodge...and that's only because the rocks at the headwall that lead down to the top of Ego Alley are pretty well hidden and unseeable till you're right in front of them. Ridge has a messy surface, but covered. Snowdance is covered. Free Fall might be the only surviving trail on the North Face next weekend... Chute and Fall Timbers are deep, but the bottom pitch is extremely thin and will require serious farming to be navigable next weekend. The only trails that definitely won't make it next weekend are Lodge and Ego Alley.
Liftlines for the bubble never got to be more than a few minutes. Challenger never had more than a ten chair wait. Busy on the mountain and at the base, but base lodge traffic was pretty light (compared to a typical Saturday). Ripcord was poached but not by me. Gladeiator cancelled. Ripcord is still in it "glacial" state- even 60 degree temperatures and a few bump-making crews of a dozen ski patrollers or instructors wouldn't be able to get bumps to form. Underneath the soft stuff is HARDpack.
Freezing fog on the North Face
Sunshine and soft snow
Lodge in the afternoon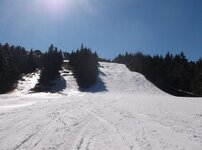 Cascade is fun when Drifter is done.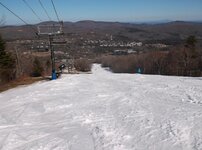 Lower Canyon lookin' good!