Joined

Dec 10, 2008
Messages

454
Points

18
Location
As much as I love hanging and watching bowl games on New Year's day - it's also a great day to ski because most of the week and weekender skiers don't go out that day. So me and my boys decided to day trip from Boston to Okemo. Okemo isn't usually my 1st choice as skiing groomers all day doesn't do that much for me. But I hadn't been there for a while and I figured "why not?"
We parked at the Jackson Gore area and the bus picked us up at our truck and drove us to the lodge. It wasn't even necessary as even at 9AM there were plenty of parking spots at the lot nearest to the lodge and we could have just walked. We geared up in a nearly empty lodge. Temps were hovering around -3 degrees. I heard later from a lifty that the lowest temp of the day was -13 degrees at the top, and that was before they started calculating wind chill. It was beautifully sunny and the views were spectacular.
The skiing: Being Okemo there was a lot of groomed terrain. All of it skied pretty well with just an occasional icy spot. But most of it all skied the same. We made our way over to the Okemo Mountain Peak trail pod and I thought that was more interesting terrain. Double Diamond is an open glade and skied well but you had to mind the rocks/roots/etc. Wild Thing under the lift was good and hadn't been groomed. For me this was the best skiing of the day with the only issue being that the SouthFace quad might have been one of the coldest lifts I've ever skied off of (and that's saying a lot). You crested a ridge about 2/3rds of the way up and then with the way the runs went under the chair - it was like a sub-zero wind tunnel. The tiny gap between the bottom of my googles and my face covering felt like it was being stabbed by a bunch of small knives.
Otherwise we hit most of the glades on the mountain. Whispering Pines - don't waste your time, too low angle. Black Hole - pretty good glade but needs more snow now. I would have hoped a mtn as large as Okemo would have more glades but I don't think that's their thing. I also would have loved for some of those groomed runs to be left as bump runs but I think that they would have just been ice bumps if they left them alone.
Overall a very enjoyable day as we pretty much had the place to ourselves and skied onto the lifts everywhere. I took a run while my boys were warming up and I actually got my own 6 pack chair at about 12:45. That tells you how cold and dead it was - a holiday day and I skied onto their main lift as a single. Pics below.
There were a lot of runs that looked like this. Groomed and empty. I'm pretty sure this is Rim Rock:
Looking up Challenger. They left it bumped but the ice in the troughs sucked:
Double Diamond glade. Beautiful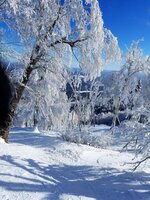 I felt like I had to take a selfie of me in my own private 6 pack chair at mid-day of a holiday:
Last edited: