Joined

Jun 3, 2008
Messages

24,840
Points

0
Website
Sidi Five Women's Shoes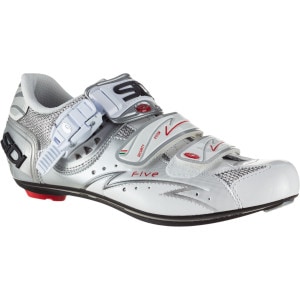 Though it makes motorcycle boots, Sidi may be forever synonymous with cycling, thanks in part to the incredible popularity of the Italian brand's Genius 5 cycling shoe, which delivered remarkable durability, comfort, and high performance without costing an arm and a leg. Ever the innovator, Sidi is now offering the Five Shoes for Women - a marked improvement over its predecessor in a number of key components.
Unchanged from the Genius is the Five's superlative fit constructed around its robust Lorica upper. Like many synthetic leathers but without the downsides, Lorica quickly conforms to foot profiles, is highly breathable, and will not stretch. In addition, Lorica is water repellent, highly abrasion resistant, easy to clean, and it won't rot or dry out. Sidi combines Lorica with ballistic mesh in key areas of the shoe enhance its comfort, fit, and ventilation properties.
New to the Five is Sidi's Eleven Carbon Composite Sole. This proprietary and lightweight sole is constructed from a layered 3k weave of carbon fiber together with a matrix of Nylon 12, which ensures the sole doesn't change shape after prolonged exposure to heat or humidity. Most impressive about the Eleven sole is how exceptionally stiff it remains - a full 20% stiffer than the Genius soles--despite its composite construction. But more importantly, even with the uptick in stiffness, the toe area of the shoe offers a subtle degree of controlled flex to biomechanically relieve stress in the plantar tendon as you ride. If overly stiff shoes are a bane of triathletes in the transition areas, the Eleven Sole should be something of a godsend, as it prevents excessive soreness after long rides.
Sidi adds a ratcheting buckle so you can micro-adjust strap pressure to ensure that the fit of your upper won't be too loose or too tight. It's mated to a Soft Arch Compression Strap that more evenly spreads the upward stroke pedaling forces across the top of your foot. The buckle provides 4 clicks per uptake along with half-click releases, meaning that you can precisely tension the pressure of the strap. No other system so precisely and so gently provides custom fit. You also get the precision of two High Security Velcro straps per shoe. The Velcro is reinforced with integrated locking teeth to absolutely, positively resist slippage. Combine these straps with a molded plastic heel cup and you end up with unmatched security. Its padded tongue with fit 'relievers' is one final small (but important) detail that helps deliver unparalleled comfort.
The Sidi Five Women's Shoes are available in the color White and in both half and full sizes from 38 and 43.
Price: $149.99 (48% Off!)
Regularly: $289.95
Buy Now