Joined

Dec 30, 2003
Messages

3,883
Points

83
Location
Resort or Ski Area

Sugarloaf
Date

Mar 21, 2021
Snow Conditions

Slush or Spring Snow
Dust on Crust
Ice
Crust
Knowing yesterday would be busy and that I have 4 days on this trip, I got off to late start yesterday and arrived at 2:30 hoping for a few runs on an uncrowded mountain but even at arrival the line for the Super Quad was over 10 minutes. While in line everyone was talking about how great it was and with temps in the 50s and not a cloud in the sky, I figured I would find their assessments correct. So I headed up Timberline to White Nitro and...yeah...no. No potatoes or soft snow to be found. Bulletproof in the middle and some loose snow to the sides. Continued onto Haulback which was slightly softer, but still largely very slick and not soft at all.
Confused by the conditions, I headed over to Skyline and found stuff like Narrow Gauge and Sluice to be more of the same. Somehow they were baking in the sun but other than some lower elevation flat areas, it just wasn't happening. Plus with lines also fairly significant at Skyline I only managed 4 runs before closing.
Putting more salt in the wounds was going to the beloved Bag and Kettle for dinner to find it closed at 4. Mind you, the hotel is full and the resort was mobbed but yeah, lets close our most famous restaurant at 4. The Sugarloaf hotel is the only place I splurge for a room once a year, but I wasn't splurging for the yuppie restaurant in the lobby so we walked down Sawduster to the Shipyard Restaurant which was very good other than the fact we were there for an hour and 40 minutes due to incredibly slow service.
One of the cooler base areas in New England but nothing is open here so move along...
Woke up this morning and knew it would be groomers only to start with a cold night. Checked the grooming report to get some ideas on what to hit. Stuff like Haulback and Comp Hill were listed as groomed (of course they've since gone back and corrected the report) but it was skiing the same skied off crap as yesterday. Narrow Gauge was groomed and skiing beautiful but of course it was roped for racing 1/3rd of the way down and you were forced off to a non groomed Comp Hill or Skidder. There was some dust on the crust in spots but the steeper spots were just crust.
Took an early lunch to let things soften up a bit more. Saw people coming down upper Gondi Line and hoped that meant it was softening, but I got to it and it was still super shiny. Saw some tracks in the woods next to Bubblecuffer but they ended up also being super slick so I bailed onto Bubblecuffer. It was doable for sure, but the bumps were still super crusty. I don't understand how much sun this place needs to get soft but it's kind of a painful wait.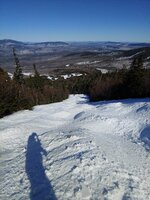 Skied around on the somewhat softening groomers, especially off Timberline which was facing the afternoon sun. Still bulletproof under the couple inches of potatoes but getting better. Just far from being classic spring skiing.
Ducked into Barber Chair glade which was skiing quite fast with the crusty snow, but it's very low angle so fun to kind of romp through. Some slush to turn in but still solid underneath. Definitely proof that the rest of the glades on the hill are still unskiable.
Finished up with a few groomers before heading over to Bullwinkles for an end of day beer on the deck. It was 3:40 and there were no less than 100 people there but they were closed already? Ok then...guess I'll head to the base. Windrow to the bottom was the first true spring conditions I found all day, a nice treat. Headed to the lodge for a beer and...lol. Widowmaker closed till Wednesday. Cafeteria already closed up. Outdoor service area closed. What kind of resort doesn't have a place to buy apres beer on a 60 degree and sunny day? Ended up having to get a beer from the grocery store (which was probably $8 cheaper than the lodge wouldve been) but again, what kind of resort doesn't have beer for sale at the base on a 60 degree day? There were hundreds of people around the base that went and bought beer elsewhere that I'm sure would've gladly forked over $10 to just buy it at the base. Headscratching.
I know this whole report is pretty negative and I hate when I have to write stuff like this. I want to love this place. The terrain is awesome and it's just a totally legendary mountain. But everytime I come here it just feels like the whole place is run so half assed and that the conditions aren't as good as I feel like they should be. Skiing here tomorrow morning then getting the hell over to Saddleback which I was already pumped for and now just cant wait to be somewhere different from here. I come here every year and pay way too much to stay at the hotel every year but I think it's not gonna be an annual thing any more. Just feel like my time and money is better spent almost anywhere else. Like I said, I want to love this place and keep coming back annually but always leave with a bad taste in my mouth, and this time tomorrow if I fall in love with Saddleback like I expect to, then this place has lost me for good.