If I were to pick the best ski weekend I'd ever had, it would be this one.
Saturday was a 14" spring powder day. Snow was dense enough to stick to EVERYTHING, putting the mountain completely in play. The trees were off-the-charts. I remember hooting and hollering through the Stairs multiple times for first tracks. Then it was an assault on the off-piste and off-the-map. I met up with a fellow named Jake who skied with me a bit. I showed him the easy stuff to find before losing him over by Bear. No friends on a powder day!
Sunday was 50 degrees and bluebird skies. Everything that had any sort of pitch had moguls. Grooming was irrelevant after the first hour. I distinctly remember riding up the Skyeship gondola looking at Needle's Eye at 10am, seeing wall-to-wall low angle bumps. I also remember doing all the stuff at Bear...and I mean ALL of it. Hit everything from Wildfire to Devil's Den. Went into the Canyon where the rock below the Downdraft intersection was almost totally buried. Again, everything in the Canyon was bumps. Soft, fresh powder bumps. Not a hint of scratch underneath no matter where I went. For a quick break I distinctly remember buying a Powerade at the Waffle Hut, and riding up the old Snowdon Triple, just at peace with life and how every choice I had made had let up to that weekend. Makes all of life's problems seem frivolous.
That weekend I skied bell-to-bell. Saturday and Sunday. Did something incredible like 60+ runs that weekend.
I was on Icelantic Keeper SKNY skis. 95mm underfoot with a stupidly large shovel. Best skis I've had in crud, tanked their way right through. I've only seen two other pairs. They've been retired a couple years now after the edge blew out at MRG. I do miss hearing "wow those are some cool looking skis" on quite literally every single lift ride :lol:.
One of the glades at Bear. I believe it's Centerpiece. All the glades at Bear are criminally underrated. Outer Limits and Devil's Fiddle are always on people's list of most challenging trails...just imagine the same setup...legit 1,200 vertical double-diamond pitch...now just add trees :wink: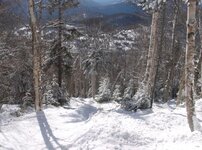 Morning bumps on the Fiddle. Totally covered in this picture, but the sun baked it and iirc it was closed the next day.
Looking up Needle's Eye.
Looking down Downdraft into the Canyon.