Joined

Nov 8, 2006
Messages

6,250
Points

113
Location
A buddy and I drove up on Sunday, arriving at around 5:30pm. The drive from the NH seacoast area took us nearly 7 hours but we had a navigation issue that tied us up for at least 30 minutes at the very end. You would think a Disneyland-ish ski village in the middle of the mountains would be pretty easy to find but the signage threw us off as there's an original Mont Tremblant village nearby. All signs are in French and even a couple of folks I asked directions from spoke nothing but French but were helpful.
When you get beyond Montreal and enter the Laurentian range it gets snowy fast, which we were glad to see. Also, we drove by a surprising number of ski areas that I'd never heard of, including one with more night skiing trails than any place I've ever seen. On the whole it's an easy drive.
We were winging this whole week and my friend made reservations for lodging in the village for a two bed hotel room on the drive up. They quoted us about $220/night Canadian, which seemed very reasonable for a place near the ski lifts so we weren't expecting much. It turned out to have a separate bedroom, kitchen, and living room and was about as close to an HSQ and gondola as it could possibly be. Also, we had underground heated garage parking which cost $15/day, which we happily paid for because it was damn cold. The view from the window that night:
About the village: I've got a frame of reference from spending time at ski areas with similar setups including Whistler, Squaw, Solitude, Stratton...they vary in size and the Whistler one is in its own category in that it's basically an actual town. Certainly, in the east, Tremblant stands apart. There are ALOT of resto-bars there and also hotel chains including Westin, Holiday Inn, and Hilton.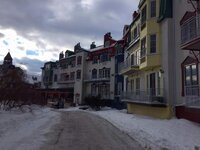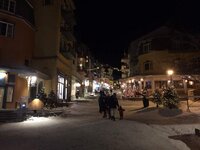 The Euro feel of the village no doubt causes some to roll their eyes for the artificial factor but the fact that the majority of the staff and guests are speaking French brought it home for me. I felt that I was much further away than a 6+ hour drive.
I'll bet you're mostly curious about the skiing. Only 5 pics per post so that's coming soon.