Joined

Sep 1, 2012
Messages

1,587
Points

83
Location
What's your best memory from last winter that's kept you psyched for skiing during the off-season? Thought this would be a good topic as the next ski season ain't far away now!
Usually for me it's something good that happened on my last ski day or nearly last ski day:
May 6, 2022 (two days before the end of my ski season). This is a view of the Mineral Basin lift line (1500' vertical) leading up to the Summit Restaurant at Snowbird, UT (elev 11,000').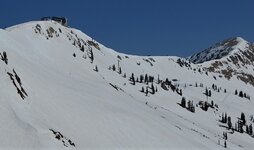 Doesn't look like much, but...
For about two incredible hours this morning I had some of the best spring snow conditions of my life!
I thought it was some form of magical corn snow, but a person I rode the chair with (a former Snowbird groomer driver) said, "no." It was too fresh, hadn't gone through enough freeze/thaw cycles to be corn. This part of the mtn had not been open/skied for five days and in the intervening time a couple of little 2" snows had taken place. What I skied this morning was basically soft supportable snow, about 2" of super carve-able velvet over a smooth supportable surface underneath. The
entire
wide expanse of Mineral Basin from edge to edge had this velvety smooth surface, untouched by human feet for 5 days. It was like the whole place had been groomed and covered with a couple inches of spring snow. It was about the easiest all the offpiste in the basin will ever ski! I made 7 or 8 runs underneath and around the liftline in this photo and since it was a non-powder Friday in May there weren't many people on the mtn. Mindless, carefree swoops through gullies, flying over shoulders, I felt like a human sports car. It was sooo good I was hyperventilating on some of the runs. After about 1045 AM it turned mostly to mush, but those two hours were a heck of a memory to carry me through the summer of 2022!
WHAT SORT OF SKI MEMORIES KEPT YOU FIRED UP THIS OFF-SEASON?