Joined

Nov 18, 2008
Messages

895
Points

18
Resort or Ski Area

Bretton Woods
Date

Feb 23, 2021
Snow Conditions

Powder
Moguls
I haven't been skiing much this winter due to the pandemic, but with the infection rates dropping I decided to risk a day at Bretton since the crowds there are usually pretty thin on weekdays. One of these days I hope to qualify for the vaccine, but it looks like that will not happen before the season is mostly over.
It is NH vacation week, so there were quite a few people there today. Luckily most of the crowd was attracted to the gondola and Bethlehem lift, so I spent most of the day on the Zephyr and West mountain where the line was usually only a few cars.
Conditions were pretty good in general. There's a very firm base from a deep thaw/freeze cycle last week, but luckily they got about 6" to 10" of fresh on top of it. So on the groomers the surface was good with no ice, and on the ungroomed there was a lot of lightly tracked powder. On steeper stuff the snow has formed really big, deep bumps. The backsides of the bumps are scraped off to ice in quite a few places, so I was practicing trying to ski the front and tops of the bumps where there was a lot of soft snow.
I've been doing a lot of cycling in place of skiing this winter, but my legs are not really in skiing shape. The groomers didn't take much out of me, but the ungroomed trails were more challenging and I was working up a sweat. By about 2pm my legs were turning to jello and I called it a day.
I tried not to spend much time in the lodge, but there were quite a few people in there, so they don't seem too concerned about the virus. People seemed really good about wearing masks in the base area and in the lift lines though, so I was glad for that. I used my car as my lodge and that pretty much sucked. My car is small, so booting up and eating there was cramped and uncomfortable. Out on the slopes things were very uncrowded, especially on the ungroomed trails which I had almost completely to myself.
Below are a few pics.
Here you can see the "long" line at the gondola. Doesn't look that long but I'd guess that's a 15 minute wait, which was a lot longer than I was willing to wait.
Lots of nice soft snow on the ungroomed trails. I was tempted to put on my fats a couple of times, but stuck with my mid-fats today.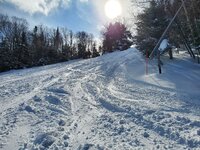 This was the first time I saw the new upper lodge completed. Looks pretty nice from the outside. I didn't go inside.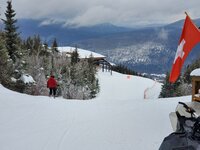 I think this was Herb's Secret. Lots of lightly tracked snow on it and I wanted to hit it again, but didn't get back there.
There were some ginormous bumps on Waumbek. Bigger than I've ever seen before. The picture does not do them justice. I was not up to skiing the zipper line on them and made some weenie side to side traverses to get down the steepest sections. It was thoroughly enjoyable though since there was just enough soft snow to cover most of the ice.