Joined

Dec 30, 2003
Messages

3,935
Points

83
Location
Resort or Ski Area

Cannon Mountain
Date

Mar 11, 2021
Snow Conditions

Slush or Spring Snow
Kind of a cold, cloudy start so didn't arrive until 11. Sun came out shortly after arrival and with temps in the 50s, today was a classic corn harvest! Unfortunately bumps weren't too common but the groomers were rippable and there were some good woods also! Mittersill Chair was unexpectedly closed all day for maintenance which was a bummer, but more than enough good stuff on the main mountain to keep me occupied.
Cannonball actually had a small line when I got up there, so started with a few runs off Zoomer. Funny how trails that usually feel pretty steep feel so flat after a week in Jackson, but the first run down Paulies felt like a green circle lol. Like I said, groomers were skiing mint. Zoomer Liftline was soft but only a few short bumplines.
Headed to the top and hit all the woods plus a few romps on groomers like Cannonball and Skylight. Woods are still pretty deep. Obviously some stuff poking through and lots of debris being exposed, but overall still in good shape.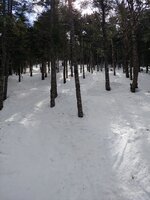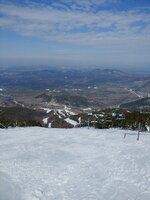 After a little while lapping the summit stuff, I headed down Vista Way which had gorgeous views of Lafayette basking in the sun. Had to be careful of a couple rocks poking through because you'd hit them if you got distracted by the view.
I knew Kinsman and Tramline were closed, but kinda naturally looked over my shoulder at them as I flew by and HOLD UP...no rope on Kinsman! I thought about it for a second or two...Kinsman is like the eastern version of the Hobacks. If it sucks, you're in a world of hurt for 1500 vertical with no way out. The summit stuff still had good coverage but I wondered how shitty it would get near the bottom. Plus there's a long slog back with the Tram closed. But after a few seconds I decided that especially with Mittersill closed, I should take advantage of my good fortune.
As for the skiing...well...it was good. Not great. It was very lightly traveled and the snow was crusty at the top and deep mank at the bottom. If you stayed in the few tracks, it was okay but very easy to sink a tip if you got into the untracked. Coverage was very good throughout. I'm glad I skied it, it's Kinsman and is always worth a bit of work. But once was enough. And that damn slog. Mostly uphill to Zoomer, plus the sun beating down on me who was overdressed today. Not fun, but worth it.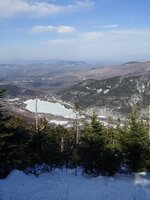 Did a couple Zoomer romps to get some wind in my face and cool off. But by then it was after 2:00 and I wanted to get a few more summit runs. Hit that for the last hour with some,repeats from earlier, then finished with Hardscrabble/Wicked Haahhd. More woods that just weren't tracked enough, so similar to Kinsman. Nice deep coverage but so manky. Nice bumps on the final Hardscrabble pitch after popping out of the woods. Did one more groomer off Peabody and then hit the deck for a beer. COVID took away these nice sunny spring days last year so it was great to sit out in the sun after harvesting corn all day.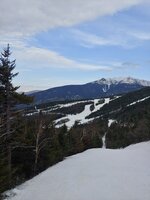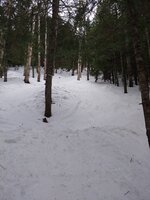 Next days out will likely be a Maine weekend with a couple days at the Loaf and my maiden voyage to Saddleback. Haven't booked it yet in case the weather sucks. Really excited for Saddleback, it's been a long time coming. Utah is booked for April 13th-18th. Hope I'm not going too late but I think I'll be okay with those dates.