Joined

Jun 3, 2008
Messages

24,840
Points

0
Website
Fi'zi:k Kurve Chameleon Saddle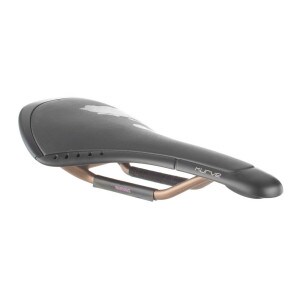 In its continuing effort to create the world's most comfortable high-performance saddles, the design team at Fizik went back to the drawing board. The result is the KURVE, a new line of saddles featuring innovations that bring increased comfort and customization to the Fizik saddle family. Designed specifically for riders with average flexibility who change positions while riding, the
Fizik KURVE Chameleon Saddle
proves that comfort and high performance need not be mutually exclusive.
Why Chameleon? Well, in an effort to eliminate some of the guesswork from choosing the saddle that suits you best, Fizik developed Spine Concept, a fit system that divides cyclists into three groups (Snakes, Chameleons, and Bulls) according to riding style and flexibility. If you're a Snake, you're very flexible and prefer saddles that are flat and narrow; Bulls have less flexible spines and as a result rotate their pelvises forward, an adjustment that requires a saddle with a larger, deeper pocket. Chameleons fall somewhere in the middle. They change their riding position periodically to manage their body's weight distribution and prefer saddles that are flatter than Bulls, but a bit wider than Snakes.
But let's talk about what truly sets the Fizik KURVE apart from the rest. In standard saddles, comfort comes from some form of foam padding; but foam takes a little while break in and can degrade over time. Instead of padding, KURVE saddles rely on the base of the saddle for comfort. The KURVE's composite Re:Flex shell behaves like a sensory receptor, mirroring your movements in the saddle as you ride. Key contact points in the shell -- such as those under your sit bones and perineum -- are constructed using fewer composite layers, thus enabling them to respond to pressure from your body. The new design means KURVE saddles have a more rounded top than their traditional counterparts -- that's the Re:Flex shell waiting to do its job. Once you hop on the bike, the saddle flexes, conforming to the shape that fits you best. Best of all, since KURVE saddles don't rely on padding for support and comfort, no break-in time is required -- just install it and ride.
Fizik didn't stop there though. The KURVE Chameleon Saddle also features the company's new Tuner insert, an interchangeable nosepiece that allows you to customize the flex of the saddle. Need a bit more forgiveness while piling on your early season base mileage? Simply install the more flexible nosepiece for a softer, gentler ride. Want to muster every last watt of power from your legs during this weekend's time trial or triathlon? Switch to the more rigid nosepiece for more stiffness and less flex.
Like many of Fizik's top saddles, the KURVE Chameleon also features TwinFlex technology (the shell is comprised of interwoven fibers that flex like a hammock), WingFlex technology (small slits in the side of the saddle flex when pedaling, allowing free thigh movement with each downward pedal stroke), and the Fizik Mobius Rail (a one-piece circular rail system constructed of cold-forged aluminum alloy is stronger and lighter than individual rails). By themselves, each feature provides immediate benefits to the rider, but when combined with the Re:Flex shell and Tuner insert, they create a saddle that proves high performance and comfort can coexist.
The
Fizik KURVE Chameleon Saddle
is Black with an embossed animal logo. It measures 278mm in length and 144mm at its widest point. It is compatible with the Fizik ICS system of bags and lights.
Price: $139.99 (50% Off!)
Regularly: $280.00
Buy Now