Gunstock
2/10/13
Powder/Packed Powder
The planets aligned--big storm, and then son's hockey games cancelled for the weekend! Busy shoveling out Saturday but we headed up early this morning. Our normal Dunkin stop didn't have any donuts--nuthin--the storm delayed DUNKIN DONUTS deliveries...now THAT's a bad storm!
Cold start--maybe 10 degrees with a few puffs of wind. About 15th or 20th chair and hit Gunsmoke and over to Pistol chair for a few runs on Pistol and Blundersmoke TP for some super smooth fresh cord. Flintlock had nice loose powder turns, then down Middle Trigger had a few pockets of frozen granular mixed in but still fun. On next trip up the Panorama, we saw a lot of new fresh tracks down the lift line from Hot Shot--it looked open! What a surprise that was that the rope was dropped--no base hardly and we were ripping up edges on rocks and tons of sprouting saplings (not sure if that's normal to open like that)--see pic. It certainly took us a while--both my son and I took a couple slow/soft tumbles each--no biggie but it was tough going until it leveled out midslope and you could sail through some nice powder--just that top portion was a mess...notice everyone mostly standing/evaluating rather than skiing. But after all of that, the expert trail Hot Shot was my son's favorite trail of the day! Atta Boy!
We could only spend half a day and had to leave just as temps were more comfortable under bluebird conditions. Lines were getting long anyways but still good progress...5-10minutes or so.
Another score on fresh pow.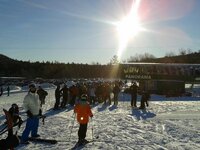 Fresh Cord on Smith
Flintlock
Hot Shot