Joined

Mar 20, 2013
Messages

2,538
Points

0
Location
I met up with Powhunter and Jonnypoach for my 1st (their 2nd) day of the season. Temps were mild, and the snow was soft and spring-like. I only put in a few hours, and spent all of my time on Rime skiing the bumps under the chair. After the GN cross over, the bumps were really great (although there were some dirt patches showing through). Fog persisted all day, and visibility was a challenge, but it was a great first day. It was also my first time on the stairs. It was not the big deal I thought it was going to be.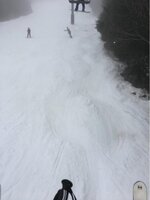 It was a crappy day for pics.
SS is holding up. Wouldn't it be nice if Killington would make an effort like this for us regular skiers?! What a great early season run that would be...
Sent from my iPhone using AlpineZone