Moderator
Staff member
Moderator
Joined

Mar 6, 2005
Messages

25,734
Points

48
Location
I just got back from spending three days at Mountain Creek for a business meeting. I had never been to the area prior. We stayed at the Minerals Hotel which sits at the base of the middle of the three peaks.
Obviously being summertime, you don't get a full appreciation for what the area is like during ski season, but I have to say what I saw vastly exceeded the impression I had in my mind after years of reading on AZ and elsewhere how terrible of a place Mountain Creek is.
A. What I saw for a ski facility vastly exceeded the feeder hill places for Boston. Definitely a more interesting mountain than Wachusett, Crotched or Pat's. Far larger than all of them too. The vertical looked legit in the 800-1000 foot range, decent pitch, not a lot of run out. I believe each peak had a HSQ. Base facilities looked solid. I'm sure snow quality is an issue being much warmer than up here, but the physical infrastructure was vastly better than places up here that get far less ridicule.
B. I did not realize that Mountain Creek was a full on four season resort area. That is certainly not the case for Wachusett, Crotched or Pat's. The Mineral hotel had a more impressive indoor / outdoor pool area than anything that exists in New England save for a full on Water park resort like Jay Peak. The gym facilities were also great; indoor tennis courts, basketball, tons of different kids activities. The place was absolutely packed with families having a great time.
C. This area of New Jersey would be considered incredibly scenic for anywhere. I drove in from 84 and the roads I took south through Warwick, Florida and down into Vernon were great. Tons of beautiful farms and cool old farmhouses.
D. I'm not a golfer, but my parents are fanatics. I played probably 10-20 times a year with them during my teens through my mid 20s at some very nice courses over those years. I think Mountain Creek has four courses associated with the resort? I played at Ballyowen yesterday. First time I swung a club in 15 years. Probably a top five course of the 50+ I've played in my lifetime. Really challenging links style course.
I was too busy having fun with colleagues to take many pictures, but I did grab one picture of the course and there was an absolutely killer sunset from the clubhouse.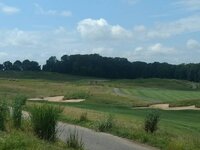 Sent from my XT1635-01 using
AlpineZone mobile app