Joined

Jan 12, 2012
Messages

4,300
Points

0
Location
Crowds were not bad at all, usually waited in line for a couple minutes and there was no trouble seating in the lodge.
In the morning the snow was like a very very dense packed powder. The groomers were fast and carveable. Moguls were quite nice, a little slick in the troughs sometimes.
After lunch the North Ridge was shut down due to mechanical problems. This made it tricky to complete all the targets for the day, as the alternative of skiing to the bottom and then riding 2 lifts up to the summit to get to that terrain isn't really an option that begs repeating too many times.
Woods were very tracked out, and Semi Tough woods on Inverness were like a preview of spring conditions. Spring like, including exposed rocks and stumps. Sugarbush apparently doesn't have squat for a base under the new softer snow. I'm not sure how long their woods are going to hold up. Not that there isn't enough snow most everywhere-- but the number of obstacles is already getting up there, depending which woods to what extent.
It was kind of an off-day for me in terms of skiing skills and confidence. Vastly different conditions from Bolton the week before.
Probably my last visit to Mt Ellen for a while. I do admire the mountain and the terrain is good but it's a long drive for options I usually enjoy more.
Some woods off the green trail that connects to Inverness.
Bravo Woods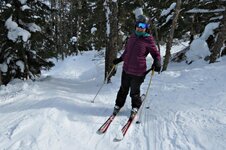 Spring like conditions in Semi Tough woods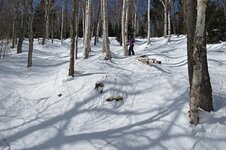 Tumbler Woods, mostly skiable
Some woods that connect Tumbler Woods to Lower FIS