Joined

Oct 14, 2009
Messages

2,996
Points

38
Location
Was planning on Pico since last week. Unfortunately the modeled system slipped south so I was planning on a couple inches on cord, leftovers from Monday's 5-6" event, and hiking to the Outpost area. I do not know what the hell happened, or how, but it was much much more.
I arrived around 8:30 and a solid squall was going through, probably put down an 1-2" in an hour or so at the base. The summit was buried in cloud cover and could not see it from the top of Golden Express. Flew down to the Summit Quad and about a third of the way up this was happening...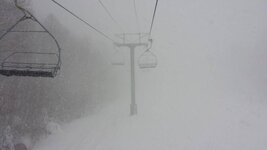 I'm not sure of the rate but it was some of the heaviest snow fall I have ever seen (including the 4"+ hour bands associated with Nemo in 2012). Whiteout conditions at times riding the lift. With the exception of one ride up it continued until about 11:30.
At the summit, the trails were untouched and DEEP. I don't know how long it had been going on for (I'm assuming over night or days) but in combination with the wind the top 1000' of the mountain had mid boot-knee deep snow and some 4' drifts on Upper Pike. Skier's right of Giant Killer was mid boot deep, a 20' section of skier's left had 2-3' drifts and consistently over the boot deep. We could lap trails and continue getting fresh tracks due to the new snow and wind.
I don't know what the hell happened over at Killington but both only reported 2-3". Got about 10 runs in off the summit quad. Last 500' of vert to the summit quad was maybe 4-6" on the sides where groomers didn't go. Below that fresh cord with an inch or two on top. It felt like something out of the X-Files.
Went in for lunch at noon and the sun came out along with blue skies. Did some runs after lunch which included poaching upper pike and running it t2b. Legit 4' drifts on waterbars up top and consistently knee deep half way down. Friend I was with mentioned it was the greatest run he had ever had on the east coast.
Maybe 20-25 people on the mountain today, left at 2:00 and the majority of the mountain (with the exception of Giant Killer) was yet to be tracked out, and by majority I mean probably 70% (still fresh runs down Summit Glades, Sunset 71, KA, Birch Glades) of everything above the summit quad base. Have no idea how much snow fell but they definitely had more than the reported 3" since Monday. Have a ton more pics, just amazing. Even better than 30" at Crotched after Nemo. GO GET IT!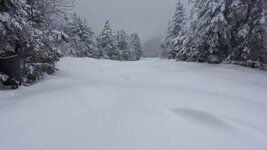 This is what was in a mogul trough on KA.
Deep sides...
Last edited: