Joined

Nov 7, 2012
Messages

8,789
Points

36
Location
Ragged Mountain
Conditions:
Dust on crust, ice too
Trip report:
Well after skipping skiing on Saturday due to rain, I was eager to make some turns on Sunday, my wife not so much. Our thinking for Sunday was to leave a little later to let the water drain out of the snow pack while expecting the conditions to be spring like. There were wind gusts on the way but and we heard that it would be windy, but that never stopped us before. BTW, my wife really did not want to ski spring like conditions. In any case, we used our RSNE comp ticket to Ragged and it is about 35 minutes away so if it were to be a bust no biggie!
The main lift is Ragged's 6 Pack Express, which is where we headed for our first run down (embarrassed to say) Blueberry Patch. The first thing we noticed was how crusty the run was (dust on crust) which actually produced fast conditions – counter to the soft and slow conditions we were expecting. We wanted to ski Reggae Glades but that was closed (everything in the woods was frozen) so we went down Lower Ridge. The grooming over night actually created death cookies in that trail. At one point we stopped and my wife turned to me and said "conditions suck". I made the mistake of saying that they were not that bad – just more technical! Opps! She claimed that she probably was not going to do many runs. Remember that statement! We decided to do another run - this time on Exhibition. This run was fine but did have unexpected icy spots and was very fast. She was still not thrilled.
So to hopefully help myself out, I suggested going down Flying Yankee since she likes that run. So up the slooooowwww Spear Mountain Triple we went and we had two options Flying Yankee or Showboat. Well, there were three paths to take on Flying Yankee and one was being used by Race Training, the middle ice and the third dust on crust. There were two kids fearing for their lives and both standing sideways across the trail because they did not know how to get down – I opted for the ice and passed them. My wife took the negotiation strategy and asked them to make a path so others could get by and then told them what to do to get down. Needless to say the rest of that run was pretty icy and really worked the edges. That was a one and done for her. Side note – those kids must not have read the sign that said "Absolutely NO Beginners"! That bothers me when beginners ignore signs – that is another story!
At this point, my wife wanted a Bloody Mary and I settled for a Harpoon IPA and watched the start of the 49er-Panthers game! I thought she was finished for the day, however, when I was putting my gear back on she did the same. I did not put past her to stay and watch the game since she is a football fan! Anyhow, we went back to the Six Pack and ended up trying every path down we could find. Her attitude was no "Put up or Shut up!". She started having fun with it and I liked what was happening! I went down Headwall a couple of times while she went down a differ trail and Headwall was just crust – point and shoot then throw out the anchor!
She ended up taking a couple of runs with the kids while my brother-in-law and I went back up Spear Mountain to ski Showboat. This trail was also a point and shoot trail with barely anything to carve on but was still better than Flying Yankee and a lot of fun. I really wanted to do another run there, but I could not take that chair. My wife and the kids did two runs to our one and they were on the Six Pack. Now time for a game update, another adult beverage and some food!
Once done eating , we decided to lap Six Pack and our go to path was Upper Ridge to Upper Chute to Lower Chute and finally on Village Green. We did nonstop runs over and over. Every now and then we would mix it up a little (Headwall and even Blueberry Patch) but the goal was to crank out runs and this was being driven by …….. my wife! Yes the one who said she was not going to do many runs. Once she got familiar with the runs she just let it all out! It was 3:30 and we thought we had one more run but at 3:42 we were on the lift again. Now we had one more run for sure! At 3:49 at the Summit and my wife yells –"we can get one more run"! So we all take off and with 4 minutes to spare got on the lift and made our last run of the day!
We had a friggin' blast! Considering how hard it was, we made the best of it and the later in the day it got, few people were on the trails – like we had the mountain to ourselves! I feel bad for the beginners that were out because they were down for the count all over – greens were blues! Their conditions report mentioned 25 trails open but we could not find them! I wanted to go on Birches and Reggae Glades which were listed as open as well as the Wild Side Terrain Park. The park staff told me that they posted the conditions report that night while things were soft. The temps dropped and caught them off guard. Form other trip reports I think it caught everyone off guard!
Definitely glad we went! Shhhhh! Don't tell anyone but we also did a run on Barnyard! I was actually looking for my son! There was a whale that he was climbing then snowboarding down even though it was frozen!
Wish they covered this part of Showboat!
Exibition - ice patches
On Lower Chute - large ice patch that was really fun to fly over!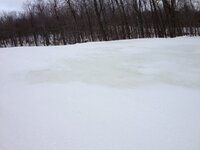 Showboat looking pretty thick - consider wish above