Joined

Oct 14, 2009
Messages

2,992
Points

36
Location
Arrived at Smuggs around 9:30 am, the inversion made for good skiing as it was around 35* all day. Conditions were great, soft snow almost everywhere, some thin cover that made things fun but nothing that would kill the skis. Upper F.I.S. was only good for accessing woods and the lower section of Doc Dempsey's as it was hard packed and groomed. Exhibition was the run of the day and had some great ledges to pop over with soft bumps and lots of turns needed to avoid obstacles. Bootlegger and Smuggler's Alley also had some soft bumps and the trees on the side of both had plenty of snow. Both of which have been closed since, they need some snow up here. Southern NH probably has triple the amount on the ground compared to Northern VT.
Doc's...
Bootlegger (gf just took a spill)
Mansfield...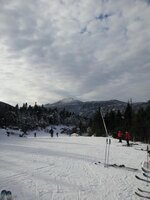 Liftline needs a lot of love...
The girlfriend and her friend were able to ski until about 3:15, I was not so lucky. Called it a day at around 2:30 after skiing a creek bed (best 50 yards of skiing I've had all year) and mistaking a log on the edge of it at a 45* angle as a drift. Crawled out and somehow skied down to the lodge to rive in pain for the next hour until the Tylenol kicked in. Just one hell of a bruise and swelling. Thought my leg was broken until I could stand on it Sunday night, all is well and I'm at Jay now.
:wink:
Last edited: