Joined

Oct 1, 2016
Messages

113
Points

0
Thank you, you just made me feel incalculably better about never having skied in Europe.
You just missed the entire point. Almost all of them Euro folks stay on them super groomer trails. They don't even go 1 foot off of 'em. There can be endless amounts of powder literally just feet off of a trail that is completely clogged with people and it is not being skied at all. You can git plenty of powder fer yer self by heading just slightly off piste.....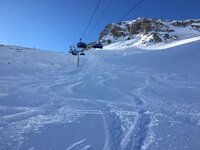 Most of those tracks were mine..... lap after lap, right under the lift, with no competition. Twas sweet.
fact.