Joined

Mar 20, 2013
Messages

2,538
Points

0
Location
I met up with Madriverjack, Riverc0il and mrj's brother at Jay today. We spent most of our time on the Jet and did a few Bonnie runs. Most of our skiing was in the trees, and we were finding boot deep powder in abundance with the occasional knee deep or better drift. As the day wore on it was harder to find fresh tracks, but we still managed - right up to our last run.
We found some nice bumps just starting to develop under the Bonnie, and UN looked bumped up also, but we were having too much fun hunting for fresh tracks.
Late in the afternoon Riverc0il and I headed to the tram so that we could ski the ridge. We managed to get the last tram before they shut it down for wind. We had hoped to hike the ridge to hit one of the chutes up there, but it was roped off so we opted for the Face Chutes instead. It's early season, and the entrance was really sketchy, but the run was worth it. It was dense refilled powder, and we got to make our own tracks.
Best day yet for me.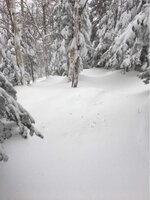 Trees off the Jet waiting for some tracks. Don't worry, I took care of it!
Riverc0il drops into the Face Chutes.
That's it for pics. It was too friggin awesome to spend time getting my phone out!
Sent from my iPhone using AlpineZone