Joined

Jan 31, 2011
Messages

432
Points

16
Location
Where: Pico Mountain, VT
When: Sunday March 23rd, 2014
Condition: Top coat of fresh snow, packed powder, pockets of fresh & tracked powder
The trip report is a little delayed but I was pretty busy Sunday night and today. Also, I was enjoying the awesome trip reports that everyone gave for SB, Stowe, Jay and others.
Didn't think I was going to get in a "Never Been" area this season, but I saw the great Liftopia price for Pico and went for it.
Got to the hill around 9am, it was snowing lightly and temps were comfortable. Parking lot wasn't very full and there was barely a wait at any of the lifts all day.
Started off on the trails off the Outpost Double. Bronco had been groomed and had a nice coating of 2" of snow. Nice pitch but way too short.
Sidewinder had pretty sizable bumps, frankly it was a little more that I could handle. Had my first double eject in a long time after underestimating a ledge about halfway down the trail. I pulled off to the side of the trail to pull myself together. While I was wiping down my glasses another guy, skiing much better than me, comes down and does the exact same thing. We laughed about it as his kids caught up to him.
The trails at the top of the mountain were a bit firmer than down below, but there was still soft snow to be found on the edges.
The trails at the top are beautiful in terms of scenery. Upper Pike skied like a dream. My favorite trail of the day was Birch Glade. Soft snow and sections of easy bumps between the stashes of trees. Honorable mention to Middle KA (I think) which is a narrow gully through the trees which had some fun little places to catch air.
A Slope Cut Off to lower A Slope was also a lot of fun, the bumps over there were a bit firmer.
I definitely want to go back because it took my awhile to get used to the layout of the mountain and I'd also like to try some of the low angle tree runs. It didn't strike me as a really challenging mountain overall, but there are certainly thrills if you want. A Slope looks steep and ledge-y, same for Upper Giant Killer and the old lift line.
Also, be warned, the pheasants are homicidal.
Upon Arrival: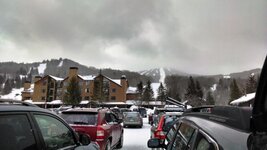 Top of Bronco:
Birch Glades
The views are stunning: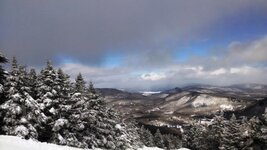 My Day at Pico