Joined

Feb 22, 2005
Messages

16,200
Points

0
Location
Website
Est 10-12", but very compressed and grippy. Felt heavy, (odd). Rather cold, could have used some wax. The testosterone-laden crew had pretty much chopped up the goods by 10:30AM. They pretty much trashed the place
left chop and were gone by 1pm.
West side was mostly open. Black was lift was running - I understand Red is waiting for a drive shaft replacement. This makes is very difficult for the "easiest way down" skiers to return to the black lift. You either have to pole a lot, or take off your gear and walk.
Magic is back in play - mid winter conditions. Watch out for the water bars - they are deep and exposed. I got my skis "instant iced" once.
Talisman and Sorcerer were sweet, lots of chopped pow, but will definitely give you (me) a workout. Green Line and Phoenix undiscovered trails of the day.
No wind at all, until about 2 pm, when a light to moderate wind (top only) began to make small drifts.
Thanks to the low temps, I felt like I had the trails entirely to myself.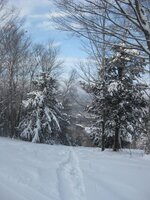 They did a nice job on the groomers.