Joined

Nov 7, 2012
Messages

8,789
Points

36
Location
I learned of Michael Franti via a ski movie (Warren Miller's Children of Winter) in 2008. At that time he was a little known artist and still is for the most part but gaining now with a couple songs that hit the charts. His sound is kind of a mix of rock/pop, some reggae and a little hip hop (using this term loosely).
Well we had a chance to see him at Soulshine at Meadowbrook in Gilford, NH this past weekend. He, and his band, was one of four artists with the other notable artist being SOJA. While SOJA was really fun to listen to with lots of reggae style jammin' and lots of energy, Micheal Franti and The Spearheads tore it up. They kept the crowd on their feet by pumping everyone up continuously. We were jumping, clapping and arm waving fools! People were dancing everywhere! Being an outdoor venue - there was that aroma the let you know Mary Jane was at the show too! I have to say this was absolutely by far one of the best concerts that I have been to. He walked through the crowds a lot singing and brought many people up on stage. They threw out about 25 or more beach balls in to the audience and they were flying everywhere. Probably the most interactive concert - really reaching out to the people. He shared a lot about his life and how it relates to the audience and also spoke about his son (15) that is ill then sang another really cool song.
If you have never seen him - check it out! We look forward to seeing him in concert again!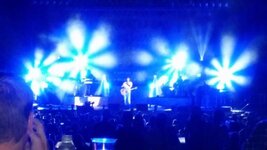 Beach balls!
Here he is in the audience!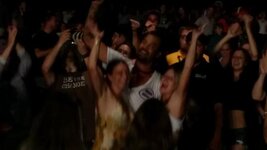 https://www.michaelfranti.com/listen
He and his wife founded "Do It For The Love Foundation" - bringing the healing gift of attending a live concert to people living with advanced life-threatening illnesses and wounder warriors.