Joined

Sep 15, 2012
Messages

780
Points

16
Location
It's damn cold out there. Arctic air coming straight from north of Baffin Island is the currently locked in thanks to a +NAO and a variety of Pacific indices. The duration and intensity of the arctic cold is rather unprecedented and an atmospheric anomaly when compared to other cold snaps. Long story short, this cold will be tough to remove. It is also suppressing the various clipper systems rolling through to our south. For the time being, it will be cold, windy and dry.
In a week, however, this arctic regime will move out or relax a little, and due to the extreme nature of what we are under, the atmosphere will "freak out" a little. This type of atmospheric shakeup is being shown on the models and indexes in the form of a major winter storm. All models (GFS, EURO, CMC) are showing a huge storm forming somewhere along the east coast. Will it be out to sea? Will it hug the coast and dump on us? Will it cut inland and deliver a rainstorm? These details we do not know yet.
What we do know is that the arctic regime will relax a little around 1/4, and a subsequent major storm will form. This is a given, now it is time to see where it goes.
Here is the current GFS.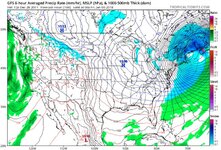 It shows our best case scenario. There is widespead model support for this outcome, but we are a week out. As most of us know, this scenario will move around. Someone, somewhere will get nailed. Hopefully its New England, and not Newfoundland or Cleveland.
Time for an exciting week of model watching!